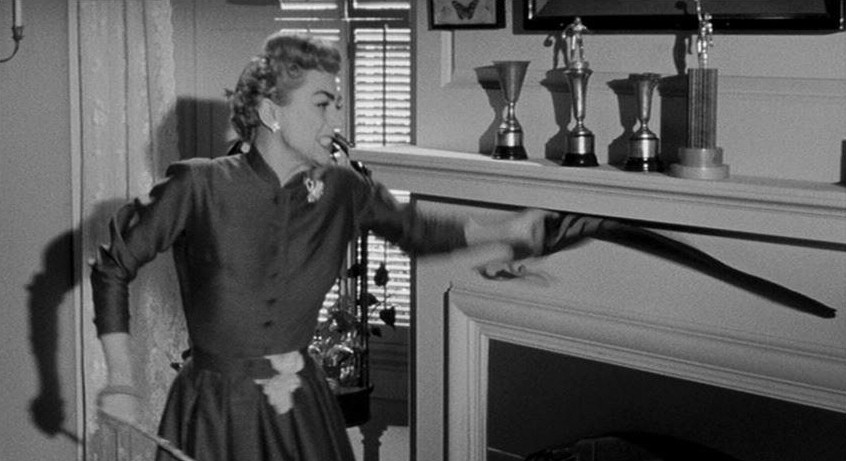 "Any man's my man if I want it that way," Joan Crawford as Eva Phillips says in the 1955 film,
Queen Bee
. There's no doubt in my mind that this movie was a model for tv's
Dynasty
and the Alexis character.
Joan is the dominating, manipulative, Machiavellian character in a family that lives in the same mansion despite all the ongoing turmoil and drama there. She will stop at nothing and is totally without morals or sympathy for others; a complete sociopath on a drama spree.
Bosley Crowther, film critic at the time for
The New York Times
, called Joan's performance in this film
"

the height of mellifluous meanness and frank insincerity." On her part, Ms Crawford looks fabulous in her Oscar-nominated Jean Louis frocks. She admitted that people often identified her with her role in this film.
The film co-stars Barry Sullivan as evil Eva's alcoholic husband, hunky John Ireland as her lover, Betsy Palmer and Faye Wray. Joan is an even more formidable foe for Ms Wray than King Kong. I met Betsy Palmer once and, when I asked her about working with JC, she told me,
"I was surprised Joan was so petite but had such a huge head! She was a bit stand-offish but that fed into the
d
ynamics of our characters' relationship in the movie."
The beautiful b&&w cinematography by Charles Lang was also Oscar nominated. Many diva staircase moments are on view, an obvious influence on Mommie Dearest.
Based on the novel The Queen Bee by Edna Lee, the story is like low-rent Tennessee Williams. The dialogue throughout is to be savored. But Joan is magnificent and rarely off-screen in this classic melodrama. On dvd (not yet on Blu-ray) from Columbia Classics.
By the way, film features the Best Bitch Slap Ever:
https://www.youtube.com/watch?v=5i-0Ew5rslc