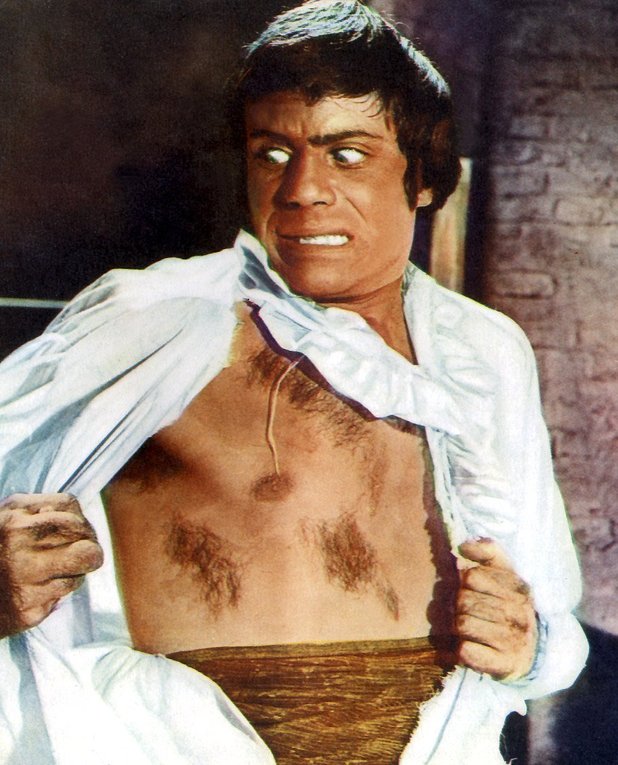 It doesn't have to be Halloween season for me to kick back and watch a horror film from Hammer. But it helps.
The mythology of the werewolf is all about man's baser nature and the primitive beast that lies within all of us. With his strong build and good looks back in '61 (Owoooo!) -- and with his upper-class accent (he was the nephew of film director Sir Carol Reed) -- Oliver Reed's performance in
Curse of the Werewolf
, directed assuredly by Terence Fisher, gives the film its growling, grimacing gravitas. This was years before
Women in Love
and his infamous nude wrestling scene with Alan Bates therein.
Hammer had the rights to all of Universal's classic monster movies. With the wolfman legend, they eschewed the Lyle Talbot storyline and instead based their script on a novel by Guy Endore.
The movie's set in Spain in the 19th Century. Reed's make-up reminded me more of Henry Hull's in the classic
Werewolf of London
than of Lon Chaney Jr's in Universal's
The Wolfman
. It is said, however, that make-up artist Roy Ashton based his make-up on the latter film.
Oliver Reed turned into quite a beast himself much later in life. But that's another story.
In
Curse of the Werewolf
, there is a village up in arms, the damsel in distress and a shocking (for its time) rape sequence that takes place very early in the film. Werewolves are back in vogue nowadays, and this classic deserves to be rediscovered. Watch it. It's a hoot and a holler.