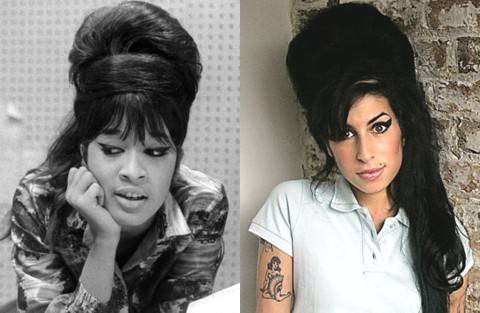 Amy
is a dark and disturbing motion picture about the late Ms Winehouse, who died of a drug overdose as much as, it seems in this documentary, being exploited ~ especially by her father/ manager. She emulated Ronnie Spector's '60s appearance as a fan and Ms Spector often pays tribute by singing "Back to Black" in her shows.
They wanted her to go to rehab; she said no no no! She should have taken that advice. However, we all love our divas with addictions! ODing is a bonus. Look how it immortalized Judy and Janis!
Unfortunately, I missed out on this film when it was released theatrically but it is now on dvd through Lionsgate Films in the UK.
The affect of drinking, drugs and bad relationships is strikingly displayed throughout
Amy
. It's heart-wrenching to hear Amy Winehouse say, "You should be tougher, mummy! You're not strong enough to say 'Stop'!" (It echoes, for me, Bette Midler's famous telephone scene, saying goodbye to her mother in the phone booth.)
The first half of the movie is quite lighthearted, covering Amy's early life before it, like the reality it depicts, turns dark, then goes back to black. RIP, Amy Winehouse.