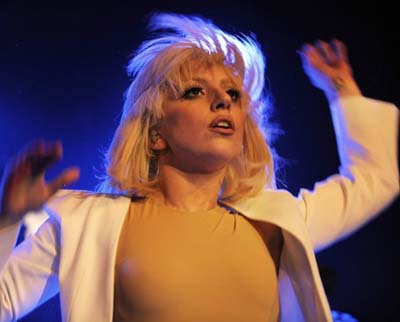 It comes as no surprise at all that the #1 spot on Billboard's annual Top 50 Club Play chart is the summer's big dance smash, "When Love Takes Over" by David Guetta featuring the vocals of Kelly Rowland. A romantic concoction with Ms Rowland's voice sounding quite lovely with a beautiful pianisimo, this song easily deserves the top slot based on both popularity and quality of work, despite the fact that none of the commercial remixes made the most of the material. Guetta's recent "One Love" with voice delivered by Estelle ("American Boy") is a worthy follow-up; soulful, impassioned and touching but ultimately uplifting and danceable. Best mix of the crop is Guetta's original extended mix.
Surprisingly, the #2 spot is covered by another summer smash, though I didn't expect it to chart this high: Katy Perry's "Waking Up in Vegas." It's a catchy tune with a good hook, and the remixes were solid for the most part, most noticeably the one offered by Jason Nevins. Perry's studied rock delivery, though, sometimes grates on my nerves.
Deborah Cox is the diva who made the biggest club comeback of the year with "Beautiful U R". Absolutely stunning remixes were on hand from both Yinon Yahel and Jody den Broeder for this one. Shawn Christopher also made a comeback splash at #9, fronting Ralphi Rosario's "Shake It." Ms Christopher, best known for her brilliant 90s club hit, "Another Sleepless Night," is largely under-utilized here, doing a faux Pepper Mashay thing but this number will get you dancing to be certain, and hopefully it will remind the club world of Shawn Christopher's talents and return her to projects that show off her voice to better advantage.
Donna Summer had a credible comeback on the dance chart with "Fame (The Game)" from her somewhat underrated last album, "Crayons," while Whitney cracked the top 50, so to speak, with "Million Dollar Bill" at #25, and Yoko Ono's "Not Getting Enough" soared to #15. Go, Yo!
Madonna charted strongly with "Celebration" at #17, which is actually amazing because it was released late in the year, and with "Miles Away" still strong from its 2008 release at #28.
The Pussycat Dolls took up the number 7, 10 and 21 spots with "I Hate This Part," "Hush Hush" (which added a cover version of "I Will Survive" as a rather stunning mash-up), and "Bottle Pop," respectively. The Pet Shop Boys continue their decades-long career with club hits in the #8 and #29 positions ("Love etc." and "Did You See Me Coming?").
Beyonce and Lady Gaga, both with current offerings that we'll certainly see charting in the 2010 annual countdown, were absolutely pervasive in their collectively non-stop barrage of club mixes for the year. (Not that I, for one, minded it.) Beyonce charted thrice with "Sweet Dreams" at #12, "Single Ladies" at #30 and "If I were a Boy" at 45. Clubgoers were still goo-goo for Gaga, as reflected in her charting at #16 ("Poker Face") and 26 ("Love Game"). Her latest hit, "Bad Romance" was only recently released and won't be expected to chart till next year, while "Just Dance" was last year's biggy. The current Beyone vs. Gaga "Video Phone" will also, I lay odds, chart on the annual 2010 list.
And so, we face a new year of discoing with new dance releases, some of which are bound to annoy, and others which we'll connect to emotionally and dance our hearts out. So, here's looking to a whole new year and recalling that the music does, indeed, go on forever.
Below, the Billboard top 50 for the year. Happy New Year, everyone!
1. Kelly Rowland "When Love Takes Over" David Guetta, 2. Katy Perry "Waking Up In Vegas", 3. Deborah Cox "Beautiful U R", 4. Lily Allen "The Fear", 5. Erika Jayne "Give You Everything", 6. David Guetta feat. Akon "Sexy Bitch", 7. Pussycat Dolls "I Hate This Part", 8. Pet Shop Boys "Love etc.", 9. Shawn Christopher "Everybody Shake It", 10. Pussycat Dolls "Hush Hush", 11. Anjulie "Boom", 12. Beyonce "Sweet Dreams", 13. Shakira "She Wolf" Peter Rauhofer,14. Agnes "Release Me", 15. Yoko Ono "Not Getting Enough", 16. Lady Gaga "Poker Face", 17. Madonna "Celebration", 18. The Killers "Spaceman", 19. Solange "T.O.N.Y.", 20. Oceana "Body Rock", 21. Pussycat Dolls "Bottle Pop", 22. Niki Haris "Bad Bad Boy", 23. Enrique Iglesias "Away", 24. Beyonce "Diva", 25. Whitney Houston "Million Dollar Bill", 26. Lady Gaga "Love Game", 27. Kaci Battaglia "Crazy Possessive", 28. Madonna "Miles Away", 29. Pet Shop Boys "Did You See Me Coming?", 30. Beyonce "Single Ladies", 31. Depeche Mode "Wrong", 32. Robin Thicke & Mary J Blige "Magic", 33. Leann Rimes "What I Cannot Change", 34. Sean Kingston "Fire Burning", 35. The Killers "Human" 36. Donna Summer "Fame (The Game)", 37. U2 "Magnificent", 38. Kristinia DeBarge "Goodbye", 39. Enrique Iglesias "Takin' Back My Love", 40. Solange "Would've Been The One", 41. Ultra Nate "Twisted (Got Me Goin' Round)", 42. La Roux "Bulletproof", 43. Black Eyed Peas "Boom Boom Pow", 44. Nadia Ali "Love Story", 45. Beyonce "If I Were A Boy", 46. Bad Boy Bill feat. Alyssa Palmer "Falling Anthem", 47. Kristine W "Be Alright", 48. Mariah Carey "I Stay In Love", 49. Livvi Franc "Now I'm That Bitch", 50. Shontelle "T-Shirt"