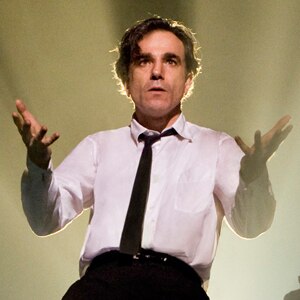 Although I love my club music, I'm also a fan of showtunes and of musical theater and movie musicals. "Dreamgirls," "Hairspray," "Mama Mia", I can never get enough. I guess I'm really a Broadway-Musical Queen at heart. And, even when it comes to disco, I love my drama. So, give me Meryl Streep singing ABBA's "The Winner Takes It All" on a mountainside off the Med and I'm in tears. I currently plan to go to London just so I can see the musical stage versions of "Priscilla, Queen of the Desert" and "Sister Act." And I pray they'll turn those into movies so I can go see
them
, too. It's amazing I don't hang out at piano bars, it really is.
Last night, I finally went with a friend to see the film version of
Nine
and, despite it underwhelming the critics, I loved everything about it! The entire cast is dreamy although, for me, Nicole Kidman's tragically loused-up plastic surgery did get in the way of her performance. It was all botox and bollix, darlings, and the only thing I could think of while watching her was, "Nicole, what did you go and do to your fuckin' face?" It looked pulled back and polished and, with the lip augmentation and rhinoplasty, as if she was on the verge of morphing into Micky Rourke, especially when viewed full frontal. Sure, Sophia Loren's face looked tight as a bongo, too, especially when juxtaposed against the papyrus-like skin of her neck, and Judy Dench doesn't exactly look like a stranger to the old nip'n'tuck, either (though she should concentrate more on Weight Watchers rather than plastic surgey at this point, if you ask me). Still, Kidman's puss was truly the humdinger! I won't even mention the breast implants. Tits like that
do not
come from breastfeeding, I am telling you no matter what she might say. But, then, I digress.
The production numbers in "Nine" are mostly fabulous, helped immeasurably by the editing. At the outset, I was afraid the film might be emotionally cold or difficult for me to access. But my fear was proved wrong as I felt involved in the emotions of the characters portrayed by Penelope Cruz (tragic mistress)(I've played
that
part), Marion Cotillard (long-suffering wife) (played
that one
too) and Daniel Day Lewis (cad)(have yet to assay this role but would love to give it a try). I doubt Antonio Banderas -- a solid enough actor who played the Guido Contini part on Broadway and was seriously considered for the film role -- could have imbued the character with the subtleties that Day Lewis brought to it, making Guido far more sympathetic than anything on the written page through his divine interpretation and sheer angst. I personally think the long, lean DDL is sexier than Antonio; in fact, I have to admit I have kind of a
thing
for him and, if there were justice in this world, he'd be my boyfriend and life would be one big, beautiful laundrette.
Anyhow, the songs, the songs! "Follies Bergiere", "Be Italian", the touching "My Husband Makes Movies", the playful "A Call from the Vatican", and Kate Hudson's '60s Euro-groovy "Cinema Italiano" were all outstanding. So, it was only natural that, after the film, I needed to go shopping so I could immediately snatch up a copy of the soundtrack cd. Some of the bonus tracks on the "Nine" disc turned out to be a revelation after having just seen the film. Fergie (whose standout number in the film is the aforementioned "Be Italian") does a somewhat lounge-meets-hip-hop version of "Quando, Quando, Quando" while Noisettes (of the 2009 dance hit "Don't Upset the Rhythm") offer a lounge-like update of "Io Bacio, Tu Baci". (Had me reaching for the disco version of Al Martino singing "Volare!" just to round things out.) Then there's an alternate mix of Kate Hudson's "Cinema Italiano" vocals as well.
I loved the film, loved the cd, was inspired to have Italian food for dinner (lasagne (obviously, I didn't make it myself but I
can
do a fancy take-out)) and, so, it turned out to be a good night after all as I ultimately cultivated sweet dreams of DDL.
p.s.: Hope you all had a Happy New Year! My New Year's Eve was spent at the movies with another friend as Clearview Chelsea Classics screened
Valley of the Dolls
. As it's about abusing pills and liquor, it was my idea of the perfect holiday-appropriate movie. Hedda Lettuce's pre-show ran long so the film was interrupted after the on-screen ladies' room catfight between Susan Hayward and Patty Duke ("Get outta my way, I got a man waitin' for me!" "Not one of the fags you usually hang out with?" "Well, at least I didn't marry one, honey!") so we could watch the Times Square countdown with Kathy Griffin and her straight man (but only in a manner of speaking) Anderson Cooper. Several ushers marched down the aisles of the theater, at that point, with trays of champagne, noisemakers and bags of glitter (to throw in the air at midnight). It was such fun! Then, back to the climax of
Dolls
followed by two unnecessary songs inflicted on us by Hedda to drag in the new year. Oy!
Meanwhile, also in Times Square, Jennifer Lopez again made a laughing stock of herself on tv. But you can read about that in this piece from
New York
magazine that I'll leave you with:
On New Year's Eve, Jennifer Lopez performed in an unfortunately hued crystal-studded catsuit that she may or may not have realized would look so sheer under stage lights. Some thought the garment looked magnificent, others thought the bunching and wrinkling made it look like "elephant skin," while still others thought it made her butt look woefully smaller. A diva in a catsuit is nothing new. A diva looking damn-near naked save a few Swarovskis also shouldn't surprise. Are modern divas not supposed to look ridiculous at every photo opportunity? Lopez — a veteran, unlike the frustratingly never-absurd Taylor Swift (crack, dammit!) — delivered. But why is no one talking about her coat? Women performers wear weird crap all the time, but Lady Gaga may be the only one to have dabbled in human hair. This coat makes Lopez look like a rare nineteenth-century lamp. Or Lordess of the Pac-Man ghosts.