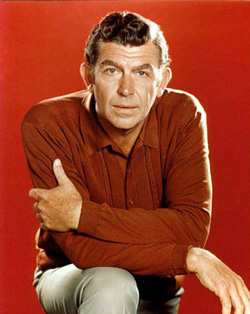 Andy Griffith left Mayberry three years ago today. The Oscar-nominated and Television Walk of Fame inductee died of a heart attack at age 86 on this date in 2012. He was born the same day as Marilyn Monroe (June 1, 1926).
Griffith had such a naturalistic approach to acting I could appreciate even as a child, watching
The Andy Griffith Show
faithfully. That series was spun from a
Danny Thomas Show
episode, both shows having been produced by Sheldon Leonard.
His Oscar nominations were for the drama
A Face in the Crowd
(1957) and then the comedic
No Time for
Sergeants
('58). The latter began his long-time association with Don Knotts. The two formed a fast friendship and Griffith brought him onboard to his tv series as the unforgettable sitcom sidekick, Barney Fife. (By the way, the film
No Time for Sergeants
was the prototype for the popular
Gomer Pyle, USMC
series.)
Griffith also starred in the popular 1980s series,
Matlock
. While I wasn't a fan, my mother watched it faithfully. Both series are perennials in syndication to this day.
The Andy Griffith Show introduced Ron Howard, then a child star who assayed the role of Sheriff Andy Taylor's son, Opie. Howard eulogized Griffith by saying:
"His love of creating, the joy he took in it whether it was drama or comedy or his music, was inspiring to grow up around. The spirit he created on the set of
The Andy Griffith Show
was joyful and professional all at once. It was an amazing environment. And I think it was a reflection of the way he felt about having the opportunity to create something that people could enjoy. It was always with respect and passion for the opportunity and really what it could offer people in a very unpretentious and earthy way. He felt he was always working in service of an audience he really respected and cared about. He was a great influence on me. His passing is sad. But he lived a great rich life."
Andy Griffith was born in Mount Airy, North Carolina and died in Manteo, NC.