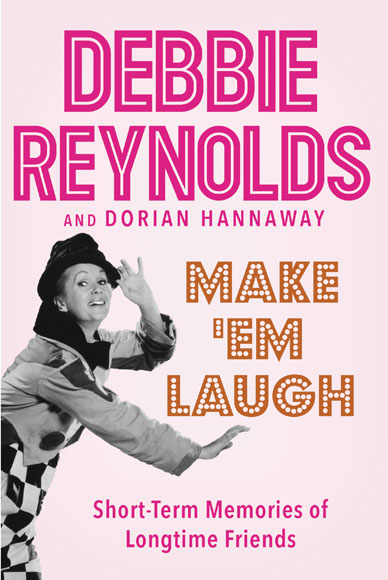 Debbie Reynolds is a very bright, funny lady, which is evident when you read her latest memoir,
Make 'Em Laugh
. Memoirs have been very popular over the last couple of years and this one's bound to be a big seller.
Ms Reynolds' new book is rich with gossipy tidbits. Like how Milton Berle hired Scotty Bowers (author of his own gossipy Hollywood memoir,
Full Service
http://djbuddybeaverhausen.blogspot.com/2012/02/fill-it-up.html
) to serve food at his party with his well-endowed manly parts displayed on the tray along with the food. (Lee Roy Reams confided a similar story to me earlier this year.) Or how Desi Arnaz was a big womanizer. "He was a charmer when he was sober, but when he drank it was all over." Bob Hope was yet another famous Hollywood cad according to Debbie.
Everyone who's anyone in Film Land is in this book. Ms Reynolds compares Faye Dunaway to her nemesis Shelley Winters as having a Method actress look in her eyes "even when there's no acting to be done." As for Ms Winters, Reynolds describes her as a rich skinflint and talks about how Winters one-upped her at a
What's the Matter with Helen?
promotional stage event.
Reynolds is a friend of the LGBT community and has starred as Liberace's mother in
Behind the Candelabra
, Kevin Kline's mom in
In and Out
, and has guested as Deborah Messing's mother on
Will and Grace
in a recurring role. She has previously published an autobiography in 1988 and, in 2013, a previous memoir,
Unsinkable
.
Make 'Em Laugh,
co-written by Dorian Hannaway, is chockfull of entertaining details and descriptions about the stars, told at a rapid pace by a motion picture icon and insider. Intimate information of her marriage to Eddie Fisher, his relationship with Liz Taylor, their daughter Carrie, and husband Harry Carl (who left her bankrupt) are all laid bare. Photos from the star's scrapbooks are included. Gossip enthusiasts are assured a good time reading
Make 'Em Laugh
. And, yes, it has an index.
Highly recommended. Available at Barnes & Noble, Amazon and bookstores everywhere.