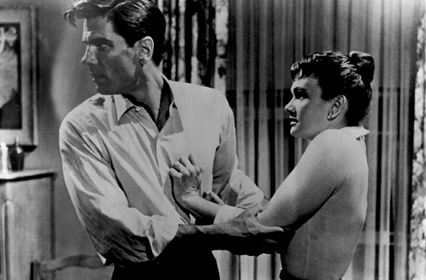 Earth girls are easy!
Actually, the message of
I Married a Monster from Outer Space
is that you can't trust men. I think many of my readers can relate. It's a proto-feminist film, actually. Seriously.
Like Earth men, these aliens just want to get into your panties to do their dirty deed. I say: as long as they are big and stupid.
Of course, aliens only want to have fun ~ and bring their spawn to this planet, damn it!
The film stars B movie queen star of the '50s, Gloria Talbott, who started in cinema as a child. The late Tom Tryon plays her alien hubba-hubba-hubby. If you look at him in human form, face it, you could do a lot worse. The physically gorgeous and talented actor (Otto Preminger's fabulous
The Cardinal
) grew weary of Hollywood and went on to become a best-selling author. His novel,
The Other,
was turned into a hit motion picture.
In a variation on
Invasion of the Body Snatchers
, another '60s classic of its genre, the creatures take over human beings, assuming their identities. Both film reflect the paranoia of the time about Communism.
Officer, help! There's a monster in my bed!
Definitely watch this on video. Or you can watch the whole thing on YouTtube: