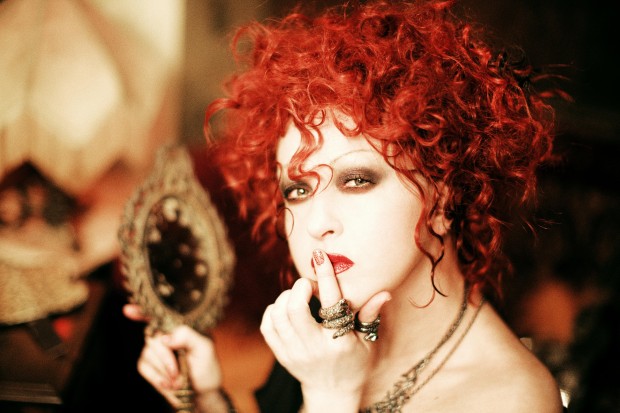 This week, on the top 25 Billboard Dance/Club chart, some of our most prominent divas of dance have made their way to the top.
Katy Perry's "Wide Awake" unsurprisingly finds that pop goddess sitting pretty in the numero uno spot, as she was upwardly mobile at #2 last week. Right behind her, like a heat-seeking missile, is Kylie Minogue and her "Timebomb." I'll be very surprised (not to mention upset) if it doesn't explode into the #1 hit next week.
JLo's "Goin' In" to the third spot this time out, with Kelly Clarkson's "Dark Side" a bright fourth place. Best in show, "Only the Horses," performed by Scissor Sisters, rounds out the top 5. I mean, I'm happy to call Jake Shears a "diva," and expect "Let's Have a Kiki" to chart soon as well.
Very thrilled that Cyndi Lauper has returned to the dance chart with her delicious "Sex Is in the Heel." Aided and abetted by several hot remixes, this number is from an upcoming Broadway show, book by none other than Harvey Fierstein, music by Ms Lauper. Welcome back to clubland, Cyn!
Nelly Fertado's "Big Hoops" buoys her to twelfth place. ("The Bigger the Better" as the song says.) while Gossip's splended "Perfect World" nicely nudges up a notch to #9. Kathareine McPhee's "Touch Me" (from tv's "Smash") gets a bounce up to #16 from 17 last week, with 10 solid weeks on the chart and a peak at 4th place.
Adam Lambert's great "Never Close Our Eyes" blasts upward like a rocket. Number 23 last week, it's now at 18. And Eddie Amador and Kimberly Cole's dance sensation, "U Make Me Wanna" is up at 15, four rungs higher than last week's charting.
Until my next totally selective and biased, but absolutely honest, view of Billboard's Dance/Club Songs, keep dancing, keep clubbing, keep the faith and spread the love! ~~ Dj Buddy Beaverhausen