I spent my last day in San Francisco taking a boat cruise up and down the bay, among other things, all on a sunny afternoon. According to the forecast, I'll be bringing the cooler temperatures back to NYC tomorrow.
It was an ambitious agenda that started at the Embarcadero business district. The streets are very clean and, along with the large banking centers and other corporate business offices there, the Embarcadero includes numerous chic eateries and boutiques, where I purchased a few souvenirs. Closer to the bay, there are artisans selling their homemade wares at outdoor kiosks. At the pier, I boarded the sight-seeing tour up and down the Bay. It was a beautiful, breezy day for riding on the water, passing under the Golden Gate Bridge and over to Alcatraz.
There were Muni delays on my return ride from Embarcadero as bad as anything I've encountered on the NYC subway. Finally, I got off at Folsom Street (where the world-reknown fetish fair is held annually) to transfer to an L to Castro once more before I leave. There were plenty of friendly faces happy to help me find my way to the L station, I'm happy to say.
In the Castro, I ate at Orphan Andy's, a gaily decorated diner with a killer jukebox. Mostly pop and folk music from the '60s. While having lunch, I heard Janet Joplin ("Piece of My Heart"), Grace Slick ("White Rabbit") and other classics of the era. I passed out a few of my blog's Buddy B business cards. My three-course, comfort-food meal was delicious but humungous. I ate all my salad and still took home almost 2/3 of my entree.
I then made it back to Wild Cards, the large gay-owned and oriented gift shop for last minute items. I told the owner about my blog and they put a large stack of them next to the register.
I hailed a taxi. My driver was a very cool guy and a good conversationalist for my 1/2-hour drive, helping to bide the time. He was my age (actually, a month younger right to the day) and a Jersey Boy as well. Synchronicity; this held promise. I gave him a blog promo card. I told him about Sally Kellerman at Feinstein's. It turned out he loves "Hot Lips!" He was very impressed to hear I interviewed her. Does it get any better than this in a cab?
I'll miss the hipness of SF, the summer weather, the people, the laid-back groove, the fact that the Sixties are still alive in the culture at large, but especially I'll miss hanging with Steve, Ilene and Katie. Ah, well, there's always next time.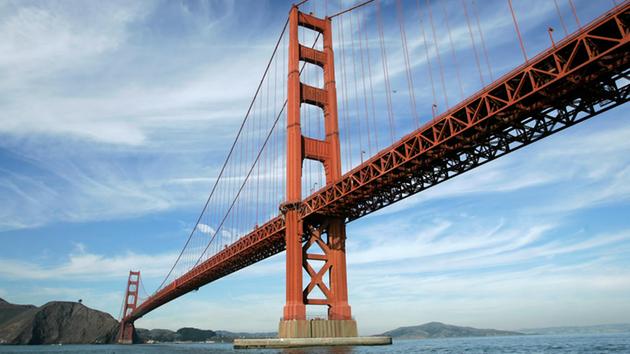 Golden Gate Bridge from the ferry
Directly underneath the iconic Bridge on the train